Session IV Speakers
Prof Dr Christoph Busch
Prof Dr Christoph Busch chairs the Norwegian Biometrics Lab (NBL) at the Norwegian University of Science and Technology (NTNU), Norway. He holds a joint appointment at the Hochschule Darmstadt (HDA), Germany and, since 2007, he lectures biometric systems at the Technical University of Denmark.
Christoph has coordinated series of projects for the German Federal Office for Information Security (BSI), including BioIS, BioFace, BioFinger, BioKeyS Pilot-DB, KBEinweg and NFIQ2.0, and contributed to 3D-Face, FIDELITY, TURBINE, ORIGINS, INGRESS, SOTAMD and others EU projects. He is also principal investigator at the German National Center for Applied Cybersecurity (ATHENE) and a co-founder of the European Association for Biometrics.
Christoph has co-authored over 400 technical papers and spoken at numerous international conferences. He is associate editor for the IET Biometrics and IEEE Transactions on Information Forensics and Security journals, chairs the TeleTrusT Biometrics Working Group and German standardisation body on biometrics, and is also convenor of WG3 in ISO/IEC JTC1 SC37.
Mr Haoyu Zhang
Haoyu Zhang received the B.Eng. degree in electronic information engineering from the University of Shanghai for Science and Technology in 2018, and the M.Sc. degree in computer science and engineering from the Technical University of Denmark in 2020.
He is currently pursuing the Ph.D. degree in information security and communication technology with the Norwegian University of Science and Technology, Gjøvik, Norway.
His research interests include face morphing attack and detection, face manipulation and detection, and synthetic biometric sample.
Mr Luigi Raffaele
Luigi Raffaele is a Research Officer in the Frontex Research and Innovation Unit, where he supports the development and implementation of research studies and projects in the field of border security R&I.
He joined the Research and Innovation Unit in 2019 as seconded national expert from the Ministry of Interior – Central Anticrime Directorate of the Italian National Police – Italy.
Luigi previously served in the microelectronics and optoelectronics industries for 15 years. He holds a MSc degree and a PhD in Electronics, and a Master's Degree in Engineering Management for Public Security.
---
IDEMIA
In the face of current world challenges, IDEMIA views security globally, over and above technological developments, by factoring in the customer's environment and how they specifically use technology. In a world of ever-increasing online interaction, security primarily means protecting identities. This is why IDEMIA focuses so closely on Augmented Identity.
IDEMIA places customers, consumers and citizens at the heart of everything, combining security, convenience, the human factor and continuity in a single, fully integrated solution. We think of this integrated approach as a "magic combination".
---
Fujitsu Technology Solutions
Fujitsu is one of the most largest IT service provider worldwide and offers a broad range of products, services and solutions to customers in 180 countries. Fujitsu responds to the modern digital world by co-creating with partners and customers cutting-edge digital technologies that transform the way we work and live, and contribute to solving global social challenges. For this purpose, Fujitsu not only invests in AI research, but it has also created an extensive ecosystem for the implementation and support of AI-projects. In particular, Fujitsu has created in Europe dedicated Digital Transformation Micro-Enterprises with a multidisciplinary team of AI-specialists who cooperate with partners and customers.
---
Mobai
Mobai is a spin-off from the Norwegian Biometrics Laboratory that provides trust in services by using biometrics for identity verification and authentication. We are ranked as a top contender on NIST Face Recognition Vendor Test, tested by the Swiss Center for Biometrics on Presentation Attack Detection, and trusted by key ICT organizations in Europe, including deliveries to eu-Lisa together with Steinbeis Transfer Centre BISE. Trusted, safe and available digital services for everyone is what we strive for.
---
secunet
secunet, Germany's leading cyber security company, offers a combination of products and consulting services, robust digital infrastructures and the highest level of security for data, applications and digital identities. secunet's Homeland Security division offers extensive expertise in sophisticated and sustainable border control solutions. These include for example high-performing, future-proof products for high quality capturing and processing of biometric data; stationary and automated border control; highly secure stationary and mobile workstations as well as solutions for mobile identity checks and verification.
---
Mr Luca Tagliaretti (Deputy Executive Director, eu-LISA)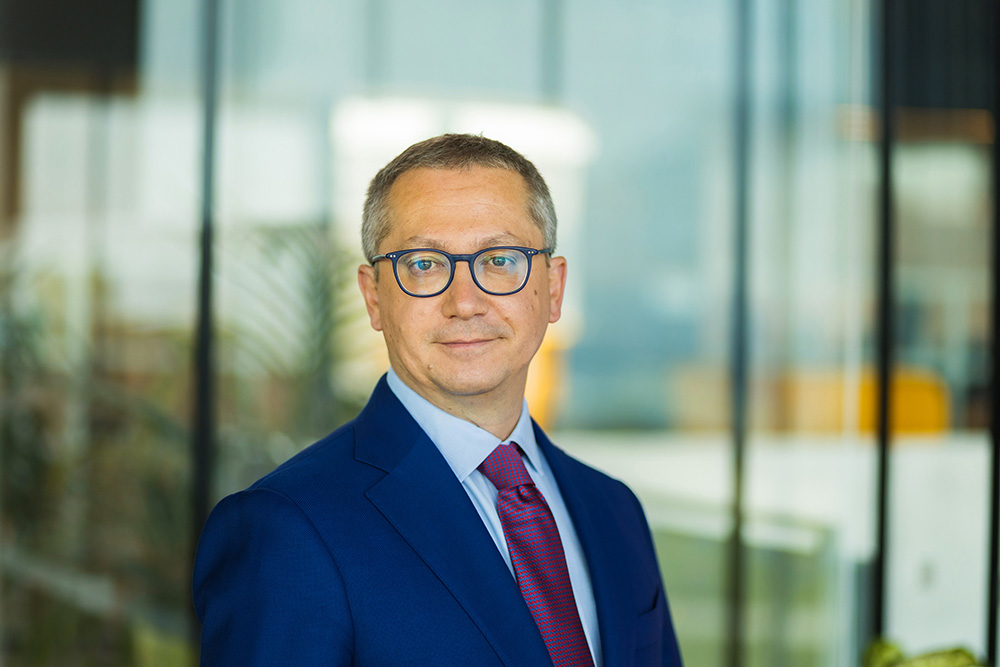 Luca has more than 20 years of experience working with European Institutions and International Organisations. From 2011 until taking up the Deputy Executive Director post at eu-LISA, in 2020, he led the Technical Centre of the Central Bank Counterfeit Deterrence Group (CBCDG), a global association of Central Banks that supports and deploys technologies that deter the use of digital equipment to counterfeit currencies.
Prior to that, Luca worked as a Senior Expert at the European Central Bank (ECB), focusing on setting the common quality and technical standards for banknote production and protecting the integrity of banknotes against counterfeiting.
He holds an Engineering Degree from the Polytechnic of Milan, a Master´s Degree from the School of Management of the Polytechnic of Milan (MIP) and an MBA from Oxford Brookes University.
Luca has also completed the Advanced Leadership and Management Programme (OALMP) at Saïd Business School, Oxford University and the Program of Negotiation (PON) at Harvard University.